About RCS
HOW RCS STARTED
The idea for Ringhiser Computer Solutions started in 2002 when Daniel starting creating his first website, one for his high school marching band. Since then he has continued to create and improve sites, both personal and professional, and starting thinking about his own business. Then while in Iraq with the USMC, his services were solicited to repair several personal computers. That is why he made the decision to create a "computer solutions" company rather than just a "web design" company.
ABOUT DANIEL RINGHISER, PRESIDENT & CEO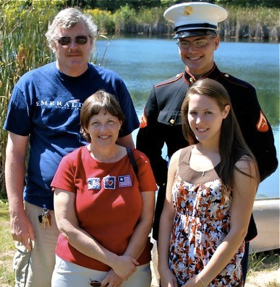 Daniel was born in Lancaster, OH, in 1987, to parents Harland and Kay. In 1991, his sister Kayla was born, and in 1992, moved to Chillicothe, where his parents and sister still live.
He went to Union Scioto Local School for K-12. During the summers between his grade-school years, he attended Camp Francis Asbury, a church camp in south-eastern Ohio. As he grew older, he became increasingly involved with Trinity UMC, in downtown Chillicothe, and Discipleship, a Bible study held twice a week. He went on numerous trips with these groups, including two mission trips, one to N.C. and one to Maine, while in high school. It was because of these mission trips and being in the marching band in high school that he started teaching himself about web design and programming.
Winter of 2004, he signed an 8 year contact for the United States Marine Corps. He signed into the reserves, stationed in Cincinnati, OH. He left June of 2005 and finished his training August of 2006, when he started pursing a BA in Computer Engineering at Miami University, Oxford, OH. After attending for two years, financial complications arose, and he withdrew. While taking a year off from classes he continued to improve his skill-set with website programming languages, and designing websites for friends.